Lenovo is a China-based multinational technology company. Liu Chuanzhi founded Lenovo on November 1, 1984; 32 years ago (as Legend). The headquarters of Lenovo is at Haidan District, Beijing (China). It is the world's largest personal computer vendor by unit sales since 2013. It markets Ideapad and Yoga lines of notebook laptops, ThinkPad line of computers and ThinkCentre line of desktops. In more than 60 countries Lenovo is operated, and sells its products in around 160 countries.  Lenovo introduces its first smartphone in 2012 and after two years it becomes largest vendor of the smartphone in mainland China. In 2014 Lenovo acquire Motorola Mobility from Google.
Lenovo Yoga Book
PC makers are trying to adapt in mobile centric world and market. Yoga Book is said to be the riskiest experiment which is done by Lenovo. Lenovo is one of the main companies which have produced the convertible creations; completely new creation is the New Yoga Book. It comes with Android as well as Window operating system. Not only the operating system but it has the new technology of touch sensitive keyboard which lights up into glowing and vibrates while touching the touch keys.
Specifications of Lenovo Yoga Book
As mentioned previously there are two types of Yoga Book available in the market which are Android Version and a Window 10 Pro version but both these devices have almost the same specifications. The Android version is not the latest one it is 6.0 (Marshmallow). The dimensions of Yoga Book are measured at(256.6 x 9.6 x 170.8) mm, or (10.1″ x 0.38″ x 6.72″) inches. And weight of 1.52 lbs (690 g). The body of the laptop is fully metallic and it also comes with SIM card slot. The sound of device is Dolby Audio Premium (3.5mm headset port).
Processor review
Lenovo Yoga Book tablet includes the 2.4 GHz quard-core Intel Atom x5-Z8550 processor (2M Cache) and 4GB LPDDR3 RAM with 64 GB internal memory expandable up to 128 GB via card slot (microSD). It is not the fastest of laptops, more a light computing tasking laptop. The Lenovo Yoga Book scored 3,222 in multicore test and 1,162 in the single core test, in Geekbench 4. Lenovo yoga book performance is on a lowerside for a laptop, but can work well under the general use. This processor and RAM are just below average in the modern life of heavy gaming and heavy internet usage.
Display review
Lenovo yoga book despite having the touch keyboard, it has done just ok with its display. Lenovo Yoga Book has the display of 10.1 Inches with the resolutions of 1,920 x 1,200. Its overall colour accuracy is little lacking covering just 81.2% of the sRGB colour gamut, despite high maximum brightness of 422cd/m2. There is also touchscreen display in Lenovo Yoga Book. It is also a convertible device with a 360 degree hinge can rotated fully also be used in many ways such tablet, laptop and stand.
Keyboard review
When we type for the first time it feels a little awkward like you are learning to type. It does not feel natural. In starting it is difficult to type as fast as the normal keyboard but after becoming used to, it increases the overall typing speed. But still there is no match between normal and touch keyboard. As Lenovo said it has artificial learning software built in, which will improve your time while typing on the Yoga Book. It will learn accordingly where your fingers land when you hit certain keys. For example if you press the spacebar below the defined area on the keyboard, then it should remember and still register keypress for you.
If you turn off the keyboard, it works as proper note taking device. By using the stylus to draw and take notes feels like perfectly natural, with near 1-to-1 precision. The pen is 2048 levels of pressure sensitive which make it simple to use. We can naturally rest our palm on keyboard without making random marks on the page.
Its bundled magnetic clip is really attractive thing about the Yoga Book. Which allows to clip any of the old A5 notebook to the Yoga Book and still take notes. Yoga book is perfect for the frequent minute-takers who need both digital and physical copies of important notes.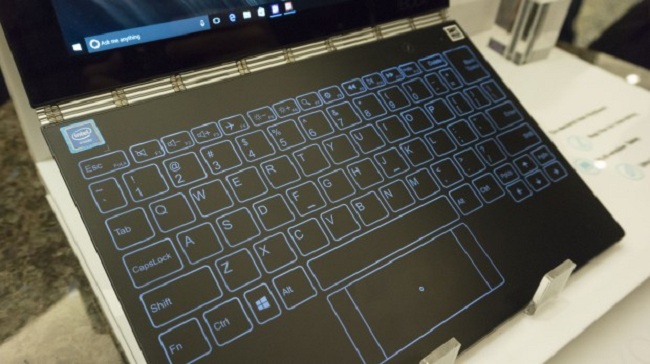 Port and connection review
The sheer lack of ports is a natural downside of having such a thin device. But Lenovo Yoga Book tries its best, as you get a 3.5mm headphone jack, a micro-USB port and a micro-HDMI output for connecting it to an external display. As far as connections are concern there is built in wireless 802.11a/b/g/n/ac along with Bluetooth 4.0 and some external ports.
Battery review
The battery of Lenovo Yoga Book is 8,500mAh. The battery life of Lenovo tablet is pretty good, it lasts 7hrs 22mins in continuous video-playback (test) with screen brightness set to standard measurement of 170cd/m2. This gives you the decent day of battery use while when you are away from the mains.
Price
Lenovo Yoga Book price in India is about Rs 49990. There is about Rs 5000 difference between the prices of both versions. The window 10 pro version is expensive than Android version.
My reviews
All the specifications of both versions (window 10 pro and Android) are same but there is difference in the prices as mention above. Lenovo has put its step forward in the touch keyboard line. I prefer to say that one should try the touch keyboard before buying as there is lack of physical keys. If you are the fan of playing heavy games then I prefer not to buy this laptop, it is made for only light gaming and just general work. And if you are confused which version to buy, then I will prefer Window 10 pro version over Android version. If we talk about online reviews Lenovo yoga book reviews are mixed some are positive and some are negative.