'Xiaomi' also known as the 'Apple of China' for its innovation and inspiration in the field of consumer electronics and goods has again come up in the market with its new launch Xiaomi Redmi Mi5. It is one of the most featured smartphones of the year mainly due to its latest OS update of Marshmallow. Its superb specifications and elegant metallic design and on top of it the handy size and power-packed performance has all made it a new love for all the smartphone lovers. Everyone wants to own Xiaomi Redmi Mi5. Xiaomi has already earned a lot of fame in India since its appearance in 2014, and it is all due to the delivery of its products which have high-end features and low-end price tags.
Not only that, but it has also topped the popularity charts due to the durability of its smartphones. Mi5 being a flagship standard phone of Xiaomi has mostly earned the popularity because of its latest update of OS, super-fast dual-core processors and the highest capacity of RAM size till date. Wrapped with all the useful features that anyone can ever expect from a smartphone, Mi5 has succeeded in making a good stand in the gadget market and has failed many of its contending rivals. People prefer Xiaomi for its excellent features and affordable price.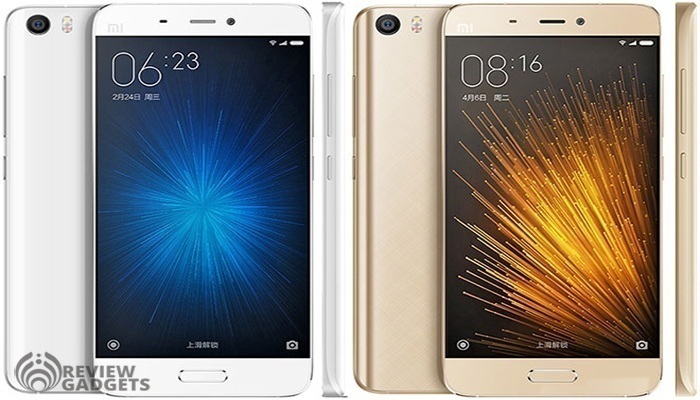 Xiaomi Redmi Mi5 Review – New Mi now comes with 13MP Camera & 4 GB RAM
Mi5 pros and cons minutely checked in detail-
Design and Look: Xiaomi Redmi Mi5 flaunts a 5.15 inches screen size with metallic body giving it a perfect look for all the age groups. The phone has a 3D ceramic glass with a metal frame which gives it an elegant and sleek look. It has a very handy size and weight and is comfortable to hold. It is also equipped with a fingerprint sensor embedded on the home button which will help you keep your phone safe. The phone also comes with some latest design of sensors like Proximity Sensor and IR Gesture, compass, accelerometer, gyroscope and barometer. The quality materials embedded in this phone, the extreme accuracy of assembly, and its compact and sleek design has made its look and feel no less than that of an iPhone.
Touch and Display: Xiaomi has given this phone a Full-HD IPS LCD multi-touch capacitive touchscreen bound within a size of 5.15 inches display. The resolution it provides is 1080×1920 pixels and a pixel density of 428ppi. The detailing brought about in the color display with a correct blend of brightness and contrast is very pleasing. There is no hue shift, and even the viewing angles are perfectly designed. The screen seems to look a bit grainy at the first look but on touching, it feels fluid smooth. The display glass has a Gorilla Glass protection.
Hardware and Software: This gadget has the highest capacity of RAM hardly any other phone would provide. It has a capacity of 4GB RAM and an internal memory of 128GB, but it is only available in the Pro Version. And the other editions of Mi5 possess 3GB of RAM with 32 or 64GB of inbuilt memory. The Android version supported by its OS is the latest v6.0 or Marshmallow, which is one of the best features of this phone. It is powered by Qualcomm Snapdragon 820 and the graphics provided is Adreno 530 which provides a fluid gaming experience. It also supports dual-band Wi-Fi and Bluetooth connectivity of v4.2. It is also equipped with other facilities like GPS, NFC, and Infrared port. The sensors provided in this phone are Proximity, fingerprint, compass, gyro, etc. In short this phone has got everything that proves its versatility.
Camera: When Mi5 is offering so much in its software then how can it lag behind in the field of camera. This gadget has a primary camera sensor of 16-megapixel with a wide aperture of f/2.0. The picture quality is impeccable, and the images captured by the rear camera are very detailed and sharpened. The camera supports phase-detection autofocus and flash. The front camera is of 4-megapixel with the same sized aperture as that of the primary camera. All thanks to its aperture size that provides you with bright and lively selfies. Even the video quality is just perfect with 1080p strength.
Battery Life: Mi5 has a non-removable Li-Polymer battery with the capacity of 3000mAh. Usual work like messaging, internet browsing, gaming, a little bit of music, all these are supported by its battery for quite a good amount of time. The battery life is excellent, and indeed, the rating given by most of the reviewers for the battery capacity of this phone is ten out of ten.
Variants and Price: Mi5 has two different variants by hardware- One is the Pro Version with 4GB of RAM and 128GB of internal storage, and the other variant has 3GB of RAM with a variety of internal storage, either of 31GB or 64GB. Mi5 is available in 4 different colors namely gold, blue, white and black.
The expected price of the standard edition of Mi5 is Rs. 28,990 but the current selling price of the Pro Version in some of the online stores like eBay is Rs. 40,999.
Suggestions: Now it's time to peruse over the detailing of this smartphone and give you some honest opinions. Since we have already discussed regarding every hardware and software details of the phone, every pros and cons regarding the display, touch and design, the camera sensors and the battery life, it's time to judge whether this phone is worth buying or not. After all the research, we found out that this phone is the best we have in the market right now. The Chinese Apple 'Xiaomi' has truly provided with the best of the features we can ever expect from a smartphone other than an iPhone.
The latest Android 'Marshmallow' supported by this phone is in fact, a significant reason for its popularity as the phones presently in the market is directly not providing Marshmallow update except a few. And on top of that, a 3GB or 4GB of RAM is more than sufficient for a smartphone. Such large storage capacity and lightning speed processor speed along with Adreno 530 graphic support together is a rare combination we could find in any of the smartphones presently in the market. Mi5 is going to have a long run in the gadget market and buying this phone is the best decision one could make. So just go for it without any second thought.