Gionee last year in the month of December came up with the successor of it marathon m5 smartphone, which has been named as Gionee Marathon M5 Plus. The phone which according to the company is a higher version of M5 has been redesigned completely and upon unboxing you would discover a whole new smartphone.
This phone was initially launched in China and was released in India in February 2016. If the company experts are to be believed, then there is not only the change in the outlook of the phone, but there have been significant changes made to the internal circuit as well, which makes this phone more balanced and optimized than its predecessor.
Let's dive in a little deeper and see whether what company says is true or not.
Design and Look Although the basic design or the brand of this phone has been acquired from the Gionee Marathon M5, this time, the company has come up with a lighter and slimmer body, which gives it a decent outline. From the first impression the design of the phone seems to be similar as that found in the Samsung smartphones, with the elliptical home button in the middle and curved edges.
The phone is 6 inches in its screen size, and sports AMOLED display with the capacitive touch button on the bottom. The central home button doubles up as a fingerprint sensor which is of decent speed. The screen has been protected by Gorilla Glass and the power and volume buttons are located on the right side of the device. The phone has a USB Type-C port and audio jack of 3.5mm at the bottom. The company has tried to inculcate a premium outline to the device by crafting it entirely out of metal.
Software This device like the other Gionee smartphones has an Amigo 3.1 OS loaded on the top of Android 5.1 which is a bit of disappointment, as most of the smartphones nowadays are coming loaded with Android 6.0. The company again like most of the smartphone manufacturers has removed an app drawer which means that the apps are visible on the home screen as soon as installed.
New applications have been added to the device such as an app locker, kid mode, and an improved mailbox. There are some local applications such as Private Sector, which allows data transfer at a secure level amid two devices. This new application can send 10GB of data between two phones in less than half an hour.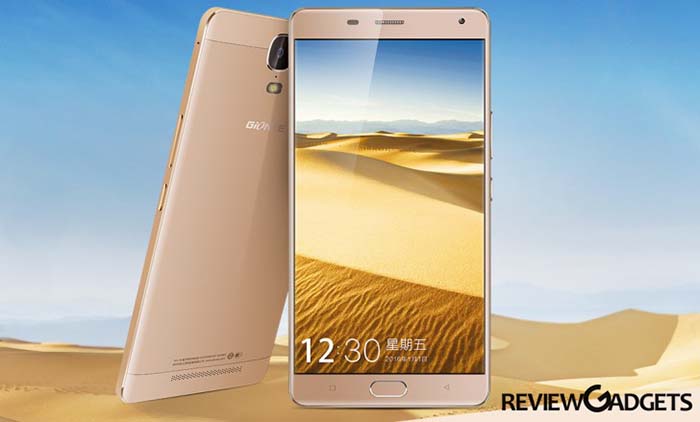 Touch and Display The phone proudly sports a 6 inches AMOLED display, which is the same as used by Samsung. The pixel density achieved is 368ppi and due to the inclusion of the new display technology, high levels of contrast and brightness are observed. It has raised its resolution to 1080X1920 pixels which is an improvement over the previous low resolution offered by M5.
The viewing angles of the phone are fab, and you can easily see and operate the device under bright daylight.
Camera Talking about the camera, the phone has a 13MP back camera with dual LED flash while a 5MP camera in the front for the selfie lovers. The phone tends to have phase detection autofocus technology which eases the process of focussing on objects. Talking about the image quality, beautiful images are clicked in bright sunlight, and attention to details can be seen. However, in the case of poor lighting, a lot of noise is observed, and the picture quality decreases.
Battery Life Most of the people hearing of M5 plus would have thought that this device would be equipped even with a greater battery capacity. However, to their surprise this phone has come up with a lesser capacity of 5020mAh (of course with the Gionee standards). What is new with this battery is that it can last for around 600 recharge cycles, which means that the battery will remain at 90 percent of its value even after 2 years of continuous usage. Also, this phone utilises two pin charging mechanism which is faster than conventional charging.
Technical Specifications The phone has been powered by powerful 1.3 GHz octa-core processor and comes in loaded with 3GB of RAM. With a battery capacity of 5020mAh, this phone makes its OS run smooth without any lags. Provided with an internal storage of 64 GB you can expand the memory up to 128 by using Micro SD cards.
Phone Accessories When you unbox the device, you will find a SIM ejector, a 2 Pin charger and a USB Type-C cable. Apart from this, for safety purpose, you will find a transparent back cover and a screen guard. Apart from other documentations, what you will find and probably love are the in-ear headphones.
Variants This phone is available in two colors golden and white, and both of these are priced at 26990 INR. Both the colors of this phone are good but rose gold is something which gives a premium look.
Verdict In case you are amongst the people who can't live without their smartphones and need them throughout the day, then this phone is sure to satisfy most of your needs. This phone is loaded with a massive battery capacity will last all day long and in some cases even more. This phone will also satisfy the need of avid gamers, all thanks to its powerful processor.
The camera quality, however, could be improved, and this is one area where we thought the phone would lose the competition against MI5, etc. But in case you are looking for a smartphone with a premium outline and good performance then this device is an option.