Lenovo Yoga Book Reviews
The new Lenovo Yoga Book is a 2-in-1 tablet that reminds us of paper pads. The device's unorthodox style makes it unique and futuristic in comparison to other laptops in the market. The flat matte surface for the keyboard with digital writing pad makes it sleeker in design and weigh less. it comes with a competitive price tag of $499 (around Rs. 33909.75). Let us learn more about the device in our Lenovo Yoga Book reviews-
Lenovo Yoga Book Reviews: Design and Build
It weighs 700g and is only 9.6mm thick making it the most delightful laptop/tablet ever seen. It comes with the grey metal framework with curvy edges joined by traditional Lenovo watchbands. The keyboard on this machine is not detachable, unlike the other hybrids. Due to the glossy layer on the keyboard and the drawing area, the stylus moves around it smoothly.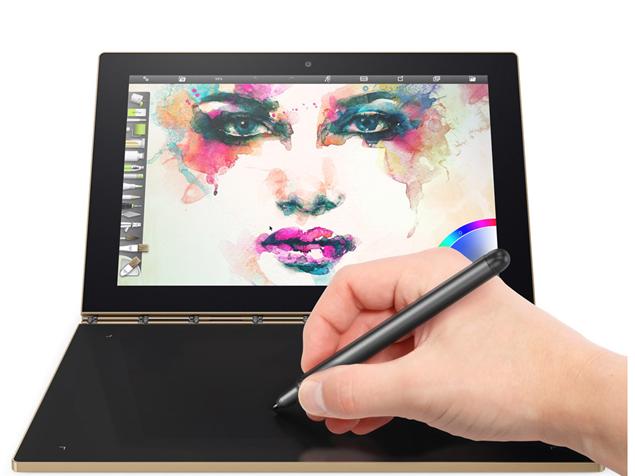 Lenovo Yoga Book Reviews: Display
With 10.1 inch screen, this is as close you can get to a paper; notebook has a 1920x1080p resolution. The display is not that bright with the maximum brightness of 154 lux.
Yoga Book Reviews: Port
Due to its thin and sleek design, Lenovo Yoga book has only two ports, one a micro-USB port and other a micro-HDMI port. Thus one can only connect a mouse using the USB to USB micro adapter.
 Lenovo Yoga Book Reviews: Audio
It consists of the Dolby audio software, making it louder than it looks. When compared to the six settings namely Dynamic, movie, music, game, voice and personalise, Dynamic has proven to be having the best audio.
 Lenovo Yoga Book Reviews: Functioning
The yoga book has a 2.4 GHz Intel Atom Processor with 4GB  LPDDR3 RAM which allows you to watch videos, stream movies, browse the internet. But you can't run big files on this machine with that much ease.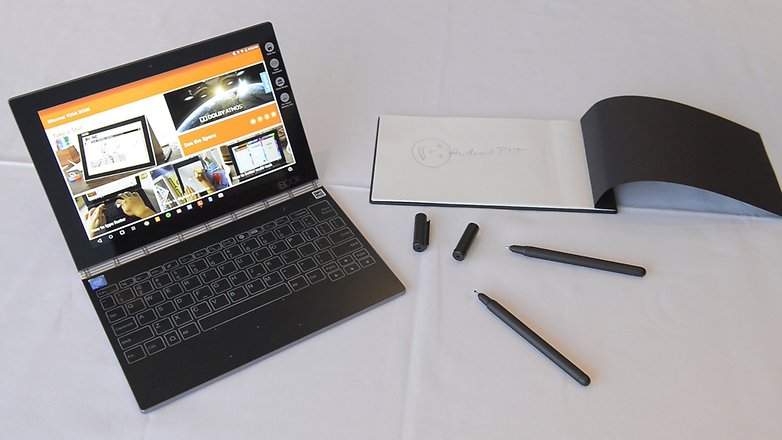 Lenovo Yoga Book Reviews: Battery
It consists of an 8500mAh battery that makes sure that the device runs on its full potential. The company claims that the yoga book can hold up to 13 hours after a full charge. But the disadvantage is that it charges very slowly due to the micro USB charging and can take up to more than two hours to get fully charged.
Lenovo Yoga Book Reviews: Our Review
This is a very exciting device; in fact, not even Pixel C got us this excited. The device is the perfect marriage between entertainment and productivity, and of course, we love the fact that it very mobile. Thanks to the Halo Keyboard and Real Pen users can watch video from YouTube, and easily shift to taking notes. While the tablet doesn't work well as a laptop substitute, it could provide an essential boost of energy into the tablet segment. Especially with its price tag the performance the device offers is unbeatable.