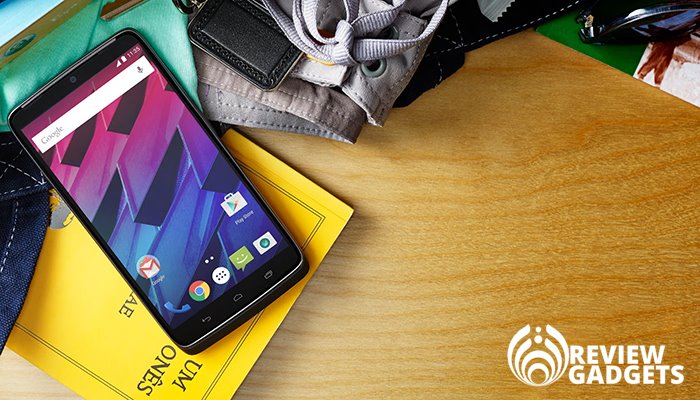 Motorola company that has made a great comeback with a high-end quality product that too almost after ten years of homelessness from the gadget market, Moto has gathered its fortune by the delivery of quality products. Such instance of business attitude and quality service is hardly seen. This time, Motorola or popularly known as 'Moto' has come up with its new product 'Moto Droid Turbo' with some intriguing specifications. Moto Droid Turbo is the new beast of smartphones priced at a demanding cost of Rs.41,999. Though the price seems to be troublesome yet the features it provides are so satisfying that the price-tag hardly matters.
It has got some premium materials to set it aside of any other costly smartphone. High-resolution camera and long-lasting battery with fast-charging capability, a 2K resolution screen, a super-fast processor with 3GB RAM and above all the premium materials to give it a classy look, all packed together in a single smartphone, Moto Droid Turbo has it all. Despite its super powerful features, Moto Droid Turbo is probably one of the least talked about smartphones in Motorola's portfolio, let us check why and have a detailed look at its features.
Let's Talk About the Moto Droid Turbo Features
Moto Droid Turbo is designed to keep pace with you, Giving You the power and performance you demand with out compromise.
Moto Droid Turbo Features Review
Design and Look: Moto Droid Turbo is one of the best-designed phones of the year. Moto has always maintained a signature mark by their design, be it using wood and leather back panel or ballistic nylon. Moto has employed ballistic nylon to create the rear casing of this smartphone. It looks unique and royal. Ballistic nylon is a tough material which was used by the World War II soldiers to protect themselves from weapon attacks. They used it as this material is very hard. Hence, its rear casing is so hard that it doesn't even leave a single scratch even on being hit with sharp edges. The ballistic nylon rear has a Motorola logo embossed on its back along with a rear camera and the front looks elegant with its dark 5.2 inches screen.
Moto Droid Turbo Touch and Display
Touch and Display: The front panel is dominated by a 5.2 inches Super AMOLED touchscreen with the usual three keys below it, and the display is surrounded by chrome plating. It has got a 2K resolution, that is, it has a resolution of 1440x2560pixels with 565 PPI pixel density. It is one of the best that is offered in any of the smartphones. The display panel is guarded and protected by Corning Gorilla Glass 3. The viewing angles and contrast are pretty good with a good proportion of sunlight readability, but color reproduction is not so accurate as the color display is a bit saturated one.
Moto Droid Turbo Software
Software: Motorola, as you would expect has used Android 5.0 (Lollipop), and it is not confirmed but has some rumors that it can be updated to the latest Marshmallow. Moto Droid Turbo runs on quad-core Snapdragon 805 clocked at 2.7 GHz. The RAM size is 3GB and the inbuilt storage is of 64GB but does not support the expansion of storage. It also has GPU of Adreno 420 which is one of the latest. The connectivity to Wi-Fi supports 2G and 3G network coverage; Bluetooth connectivity is of 4.0, infrared and NFC are also supported. But Moto Droid Turbo doesn't support India's 4G Band, which sets it back from being among the few top-ended smartphones in the market.
Moto Droid Turbo Camera
Camera: This premium quality smartphone has some premium features when it comes to camera sensors. The primary camera has an irresistible resolution of 21megapixels which gives a detailed image even when captured at a distant view. The images seem to be magnificent even when they are clicked in low-light. The rear camera helps you to capture brighter images. The images are so detailed that you need to zoom a lot to find out any flaw in it. It provides all the necessary features like Geo-tagging, touch focus, face detection, panorama, etc. But the front camera is only of 2 megapixels providing good selfies, but it cannot be termed as perfect.
Moto Droid Turbo Battery Life
Battery Life: Moto Droid Turbo is a powerhouse of performance all thanks to its power-packed battery capacity of 3900mAh. The battery life lasts for a day and a half and even longer when constantly connected to 3G and Wi-Fi networks. The fast charging technology introduced in this phone lets you consistently use the phone whole day long even on 2 hours crisp charge. The phone is powered by a 3900mAh battery which easily supports a lot of gaming and multitasking on various data consuming apps and watching you-tube videos.
Moto Droid Turbo Variants and Price
Variants and Price: There is no such information regarding the color variants of this phone but due to its ballistic nylon rear, this phone looks royal in black and this premium quality smartphone would manage to come into your pocket at a deal of Rs.41,999.
Moto Droid Turbo Suggestions
Suggestions: Now it's time for some honest suggestions-
Moto Droid Turbo is a high-end premium featured phone at a high-end price. This phone stands out to compete for one of the best smartphones of a well-known brand Sony Xperia Z3, and Moto truly knocks it down in the field of gaming. Moto has a GPU of Adreno 420 rather than Adreno 330 of Xperia which makes it deliver a fluid gaming experience. The graphics rendition is further enhanced by the 2K resolution of this phone which adds life to the gaming experience. The ballistic nylon rear of this gadget is distinctive which gives it an off-beat look and helps it to maintain its individuality among its contenders with metallic design.
Turbo, as its name suggests, is a powerhouse of performance all because of its high-end super-fast Snapdragon 805 processor with 2.7GHz of speed. The Android Lollipop that this phone supports, helps it do a lot of tasks with super ease as it provides faster animations even more than that of iPhone 6 Plus. No lag or stuttering is encountered during usual day to day work. The battery life is superb holding on to its battery shell for quite a considerable count of time.
The battery life is incomparable, but this phone seems to disappoint us in the field of camera. Though the rear camera is quite good, the front one is not at all of a resolution provided in any of the expensive smartphones. Here Sony Xperia Z3 seems to knock out Moto's Turbo. So if you are not that camera conscious but want a neatly packaged all-rounder premium quality smartphone, then you can opt for Moto Droid Turbo without any hesitation.