Samsung Galaxy A7 2017 with advance features again in the market to rock
Samsung Galaxy A7 (2017) is the updated version of A7 (2016). It is accepted in the market because of its fast charging and amazing battery quality. It is one of the best version of Samsung Galaxy A series. The design and glance of the device give it a superb welcome in the technological market. Galaxy A7 has an incredible camera, multitasking facility, big screen size, etc. 
Design and look: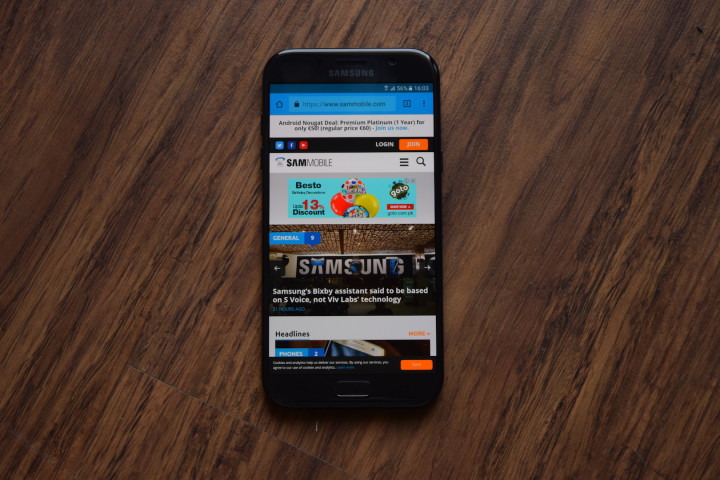 The design of Samsung Galaxy A7 is made with a metal frame of 5.7" with a 3D glass back and provides a bright resolution of 1920 x 1080 (FHD).  This device has a multi-touch facility, and with a colour depth of 16M. The look of this device is almost the same as the earlier version of it, hardly a bit difference you will find. The device is protected by Corning Gorilla Glass 4 which save the gadget from dust and water. The display of this smartphone is protected by Corning Gorilla Glass 4.
Camera:
The camera quality of this gadget is mind-blowing as it gives a very clear picture and helps the user to create fantastic and funny memories. The primary camera is of 16 megapixels with Optical Image Stabilisation, Face Detection, HDR and LED flash. The excellence of the pictures taken by this smartphone is incredible, and the accuracy of its pixel measure is striking.The front camera is of same 16 megapixels and amazing video recording quality at 1080p@30fps.
Software:
 The software of Galaxy A7 2017 is more advanced than its previous 2016 Galaxy A7. It has various sensors features such as fingerprint, proximity, accelerometer, compass, gyro, etc. It works on the operating system Andriod 6.0.1 (Marshmallow) with a chipset Exynos 7880 Octa, which is the most important part of any such device. Samsung Galaxy A7 contains a fast CPU which is powered by an octa-core 1.9 GHz Cortex-A53 and GPU Mali- T830MP3. It has a multi-storage facility, 32 GB internal storage capacity and 3 GB RAM. The big 5.7 inches phone comes with an installation facility of dual sim.
Battery quality:
The battery life of 3600 mAh provided by this phone is excellent as it works smoothly for the whole day. If once charged it can work even after playing games for two hours messaging, calls, browsing, etc. it has a non-removable Li-Ion 3600 mAh battery quality.
Price and colour: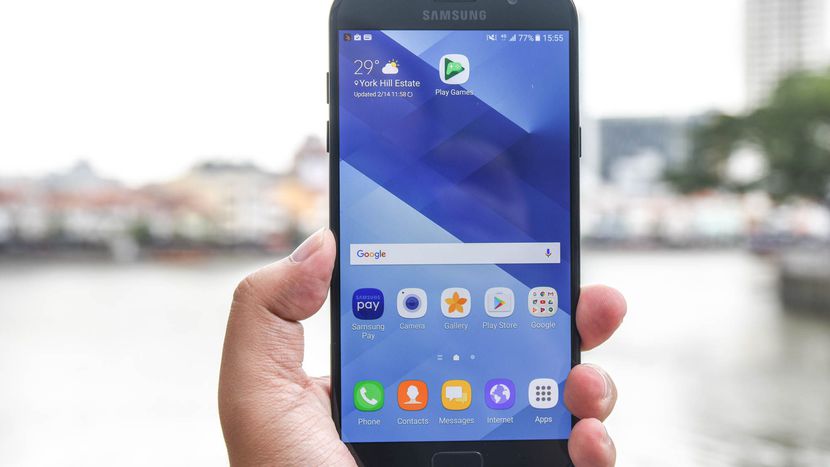 Samsung Galaxy A7 2017 price in India is Rs. 33,445 and it is available in two colours, i.e., Black and Gold. In other countries, its colours may vary.
Release date:
Samsung Galaxy A7 2017 release date was January 2017.
Phone accessories: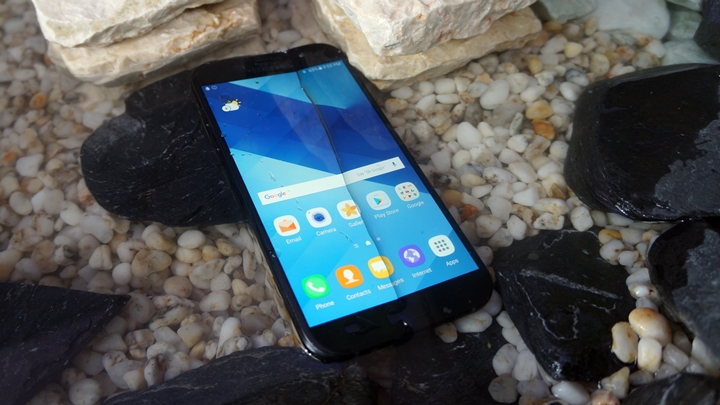 Let's see, what are the accessories the Samsung company provides with this gadget?
The moment you will open your box you will feel good as you receive a screen card, phone cover, charger and a pair of earphones.
Advantages of Samsung Galaxy A7:
The power of Samsung Galaxy A7 is excellent as compared to the earlier version of it in in 2016.
It offers great dual sim card slot with expandable memory and SD card slot. The device has a water-resistant capacity up to 1.5 meters and 30 minutes which is earlier not found in the series of Samsung Galaxy A. the sound and call quality is outstanding with amazing battery life. Also, it has an amazing camera quality which gives you a picture of excellence quality and provides several other options for editing and colouring. It consists of other fantastic and exciting features like panorama, HDR, touch focus, geo-tagging and face detection. The other best part of this device is the battery quality of 3600 mAh which last for the whole day easily even after consistent work. The design and look of this device are impressive and eye catchy on first look. It supports all types of connectives such as Bluetooth, USB, NFC, GPS, etc.
Disadvantages of Samsung Galaxy A7:
Every device has its pros and cons so as this device have a bit of difficulty. This device does not contain Java processor. Also, it does not have the temperature sensor and provides a non-removable battery which is not appealing to many. Moreover, it also runs on an old operating system.