Drones are widely used by professionals all over the world but now, their use is not just limited to them. If you are a beginner, then it is quite important to know which one is best suited for you. There are various types of drones available in the market. It might be a difficult task for you to choose one out of so many choices available on the internet.
Is the task of buying your first drone making you nervous? If yes, then you have come to the right place. The choice of the first quadcopter is really important for you as it will give you an experience of how easy or difficult it is to fly one.
You will find drones in every range and its price range keep on increasing depending on its advanced features. If you are going to fly a drone for the first time then, it is better to go for a cheap one rather than spending a lot of money on your first drone due to the risk of crashing or destroying it.
Her, we are making it all easier for you. The buying of a drone is not going to be a tough decision anymore. The list comprises of the best five quads for beginners that come at reasonable rates. Let us just move on to them!
Holy Stone HS170 Predator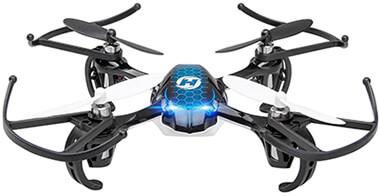 It is the best choice for beginners who are yet not sure whether they will be able to fly it or not. It is designed for the purpose as to give training to learners. It comes with three flight modes starts from learning to advanced levels. This windproof drone offers a control distance to 50 meters and comes with protective bumpers. It offers the flight duration of 8 minutes.
Pros
It comes at an affordable price.

It has colorful LEDs.

It is well-built in structure.
Cons
It requires 6 AA batteries.

It takes a lot of time for charging.
SYMA X5C
It is an excellent choice that comes with a camera. It is a very cheap product that makes it quite a good bargain for beginners. It offers a 7-minute battery life and control distance of 50 meters.
Pros
It comes in a large size.

It is very simple to use.

It is very stable.
Cons
It offers no flight modes.

Its camera quality is poor.
UDI U818A HD+
It is one of the most affordable quads for a novice. It comes with a camera and propeller protectors, which are protected by a strong plastic shield. It offers an amazing feature of return-to-home. It offers the flight duration of 9 minutes and covers a distance of 30 meters.
Pros
It is strongly built.

It has effective motors.

It is very stable.
Cons
It drifts during winds.

It is difficult to carry due to its large size.
DJI SPARK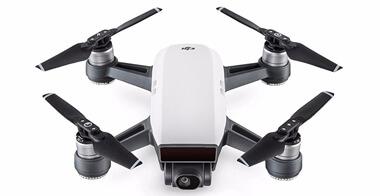 It is one of the cheapest drones of the well-known drone company, DJI. It is specially designed for beginners.  It is very swift in taking flights. It comes with an HD camera of 1080p. It does not require pairing with the remote controller. It offers the flight time of 16 minutes.
Pros
It comes in a compact design.

It supports gimbal.

Its camera quality is good.
Cons
It might be difficult for a beginner to handle due to its features.

It might be too quick for beginners.
Blade Nano QX RTF
It also comes from a well-recognized drone company. It is a very easy-to-use drone for first-timers. It offers two flight modes. It has propeller guards for a good safety and offers the flight duration of 8 minutes.
Pros
It has brushed motors.

It has two flight modes.

It comes with blade protectors.
Cons
It is preferable for indoor flights only.

It does not have any stunt options.
So, you can choose any of the drones for beginners from this amazing list. These all are quite cheap with many features. You can go for any racing or photography drones to start from. The racing drones are good for the people who want their drones to move faster and higher while the photography drones are meant for those who want to get the upper view through the use of these quads.
There are many choices available in the market for both categories. But it would be best to go with these drones due to their affordable yet reasonable prices. These quads are quite cheap and would be best for your first encounter with drones. These quads would be the right choice for you to start with. Now, you are all set to get one for you!