Airtel, one of the India's biggest telecom operator has come up with a new offer of Rs. 399 in which you will get unlimited local and STD voice calling and 1GB data per day for 84 days. Reliance has a similar offer for its prepaid users and it seems Airtel has launched this plan to compete with it. In Jio, on the recharge of Rs.349, you get unlimited local and STD call and 1GB data for 56 days. And for the recharge of Rs. 399, the company offers unlimited local and STD calls with 1GB data per day for 84 days. Airtel new offers for its users are an attempt to keep its clients with itself and maintain its place in the telecom market.
With the launch of Reliance Jio, the other operators are forced to come up with new and interesting offers in order to keep their market share intact.
Not just one, Airtel new offers are clearly in the market to compete with Jio packs. For Rs. 149 plan Airtel is offering unlimited Airtel to Airtel calls along with 4G 2GB data for 28 days. Airtel has come up with offering to start from Rs. 8 to Rs. 399.
Airtel New Offers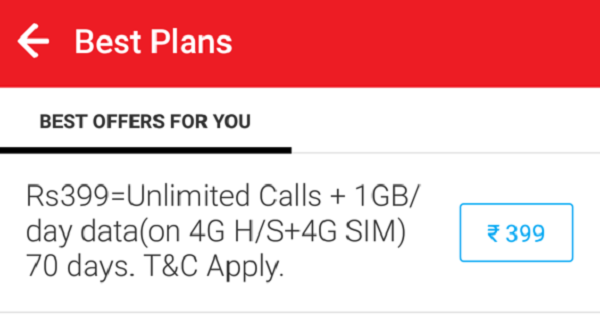 8 Plan: local and STD calls for 30 paise per minute for 56 days
40 Plan: talk time of Rs. 35 along with unlimited validity
Rs. 60 Plan: Talk Time of Rs. 58 with unlimited validity
Rs. 5 plan: 3G/4G 4GB data with 7 days validity. The offer is only valid after the upgradation of SIM to 4G
Rs. 199 Plan: Unlimited local calls along with 2G/3G/4G 1GB data with a validity of 28 days
Rs. 349 Plan: Unlimited local and STD calling with 28GB data for 28 days.
After Reliance Jio, another telecom has realized the amount pressure they are in now. Reliance has taken over 12 crore mobile subscribers after the launch of its Jio 4G services. So if the telecoms have to survive in this market they would need to step up their game.