Huawei is one of the leading brands in terms of global market share and a top vendor in China in the field of consumer electronic goods. The company is also well-known for its premium quality smartphones and has recently partnered with Google to design new generation smartphone Huawei Nexus 6P. Along with Nexus, 6P Huawei has also launched many other high-end smartphones which have gained much popularity last year and is continuing to do so. Huawei has recently released its new Huawei Mate S, which is also a high priced smartphone and has some exquisite features.
This phone is going head to head with the Huawei' own Nexus 6P all because of its outstanding specifications and irresistibly elegant looks. This phone has an intricately crafted metallic body with straight edges that shine beautifully. Well! Some people are finding its straight edges very rigid as not so comfortable to hold while its sleek body and dark elegant screen and fantastic fingerprint scanner are gaining popularity. But this phone has some needless extra features and a battery life that does not last long. Anyways! Let us check out whether this phone is good enough to cost you such high price as 30K and more.
The First 3D Touch in Android Smartphone – Huawei Mate S
Let's Take a Quick View of Huawei Mate S Features Details
Design and Look: The Huawei Mate S is a beautiful phone, would even have matched up to the level of iPhone 6S Plus if not for its rigid straight edges. Even with this issue this phone looks pretty much impressive with its front dominated by a 5.5inches FHD display and the back curves so slight that it tenderly tries to soften its harsh edge. The body is fully metallic and the edges glisten very beautifully. This phone is very light to hold, and the size is compact making it extremely comfortable to hold when in hand. This phone looks very good in Titanium Grey but the Luxurious Gold looks a bit tacky.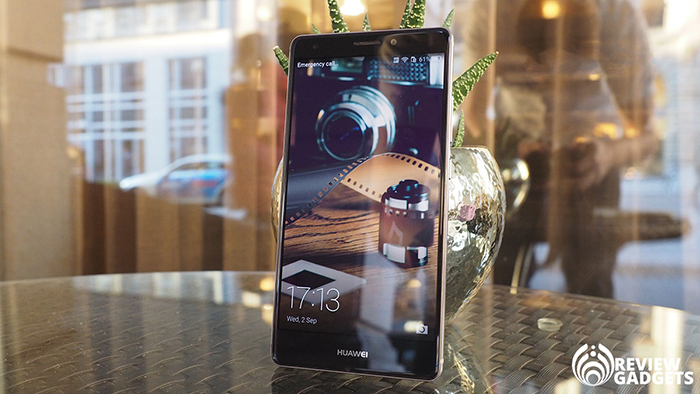 Touch and Display: Huawei Mate S is loaded by 5.5inches AMOLED capacitive touchscreen that gives it a 73.9 percent screen to body ratio. The resolution is quite good that is 1080×1920 pixels with 401 PPI pixel densities. The screen is protected by Corning Gorilla Glass 4. The phone does not feature pixel-dense quad-HD panels that are seen on most of the high-end top-competing smartphones nowadays. Its AMOLED display is bright and vibrant but it has an issue of a bit over-saturation though normally it doesn't make much difference. The viewing angles of this smartphone is great and gives you a great experience while watching movies or playing any hard-core games. Its display is one of the Huawei Mate's most impressive features.
Software and Hardware: The Huawei Mate S runs on Android 5.1.1 Lollipop with Emotion UI 3.1 working on its top. This is where Huawei Mate S disappoints us as the phone does not run on the latest Android Marshmallow and give us a pure android experience. At almost the same range where Huawei's own Google built Nexus 6P, and Huawei Mate 8 comes with pre-loaded Marshmallow, Huawei Mate S's Lollipop android feature is an issue to ponder over. Nonetheless, Huawei Mate S is powered by an octa-core HiSilicon Kirin 935 whose four cores are clocked at 2.2GHz and the other four are clocked at 1.5GHz. The graphics is loaded with Mali-T628 MP4 GPU. Now, moving on to its hardware part, Huawei has given this phone a RAM size of 3GB and the internal storage varies according to the price. The inbuilt storage is either 32GB or 64GB or 128GB and there is also a micro-SD card slot due to which you can expand you storage up to 128GB.

Camera: The Company has set the rear camera at 13-megapixel but it has provided a better aperture and pixel size and some additional modes to give you a better camera experience. The rear camera has an aperture size of f/2.0 and a sensor size of ½.6"and supports dual LED flash and autofocus. The rear camera captures beautiful pictures which are bright and sharp. The front camera too has a very good resolution. The front camera has a resolution of 8-megapixel and an aperture size of f/2.4. There is also an LED flash to bring out the life in your selfies. Also video can be recorded at up to 1080p with the rear camera. The pictures taken from both the sides seem to be so detailed, bright and sharp.
Battery Life: Huawei Mate S has a battery life of 2700mAh which is another issue in this phone. The battery seems to drain out soon after a standard usage of 7 to 8 hours. And if you play some games on this phone and do some internet browsing then its battery life is sure to die after 3 or 4 hours. We do not expect a high-priced smartphone like Mate S to have such a disappointing battery life. In this regard Nexus 6P does a good job.
Price: This Huawei phone is expected to have a price of around Rs.38,000 for the 32GB version and Rs.48,000 for the 64GB variant.
Suggestions: Huawei Mate S is no doubt a good looking smartphone but its features are not so competitive that it can have a long run in the gadget market. Of course! Huawei has tried a lot to give it some great specifications, but it has ended up giving a lot more useless extra features. The phone is very expensive, and there are not many features worth its price. The battery life is terrible making you give it charge time and again. Even the design specifications are not that sharp. Its rigid, straight edges don't give you a grip and end up making this phone look a bit tacky. The display feature and the viewing angles are great. The camera specifications are also good, but the most core part, the android that runs on this phone is a little outdated now for this exorbitant price. This is a disappointing issue of this phone. Comparatively, at almost the same range Nexus 6P provides pre-loaded Marshmallow, and Huawei Mate 8 does the same too. In this competition of having latest featured smartphones Huawei, Mate S falls behind in the race.