LG continues to hit the mid-range market with the release of its two phones i.e. LG X Cam and LG X Screen. The company has tried to incorporate a premium outline in each of its two phones. Therefore, as the name suggests, X Cam gets premium features in its Camera.
The phone comes with a screen size of 5.20 inches and is very light in weight. The phone was launched in the month of February 2016 and is available in five distinct colours, and is easy to handle, all thanks to its 5.2 mm thickness, which makes it fit into the user palm.
Design As mentioned above the first thing that you would experience in this phone is that it is very light in weight. Although X Cam is made with metallic plastic, still it gives a feeling of holding something very cheap in hand. We were left disappointed as far as the premium outline thing is concerned. However, what we liked in the design was that the phone had curved edges which made it easier to handle and use.
Apart from it, talking about the overall design of the phone, the power button is located on the right-hand side of the phone while the volume controllers are located on the left. Although the buttons are very easy to use, they are sometimes harder to reach as they sit flush with the chassis. The outlay of the phone is good but the plastic utilised makes us concerned about carrying them in our pocket jeans.
Software Talking about the software, then this phone has a bit of a higher edge as Android Marshmallow 6.0 has been incorporated into this device. This new inclusion tends to remove the app drawer. The UI i.e. the LG's Marshmallow Surface UX tends to include some new widgets and some functionalities for the camera.
There are no bloat wares in this device. After opening the screen, you will find the general applications such as Tools folder, Quick Memo, Google Service and LG-service services. The UI utilised covers up around 5 GB of the 16GB available, therefore using a memory card will surely be necessary.
Don't Miss: LG Fingerprint scanner Cover Full Display of Your Phone
Display The phone comes with a 5.2 inches screen size and HD display. The viewing angles of the device are good and brightness levels have sufficiently been adjusted to meet the human eye requirement. Numerous settings have been provided for the users to change the device's brightness levels
The colour levels are robust and vibrant although not as good as found in Samsung phones. But in the entire phone, the display does not tend to disappoint much and you will be happy with the overall display quality.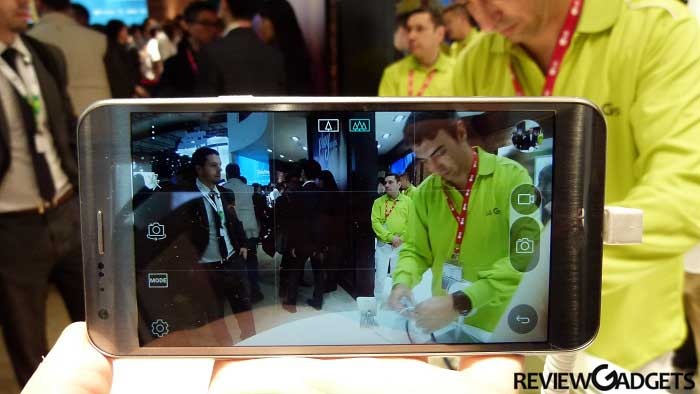 Camera Yes, the moment you have been waiting for- The USP of X-Cam that is the Camera. There has been a lot of hype about the camera of this smartphone. LG X Cam comes up with an 8 Megapixel of front camera, which produces sharp and detailed images. The front camera comes up with numerous features such as gesture shutter and beauty mode, to produce images worth appreciation.
Now, to the back cameras, the phone comes with dual back cameras, one with 13MP resolution while the other one with 5 MP resolution. These two cameras allow you to take wide angle shots and a depth of a field.  You can choose between the two cameras to use for the foreground as well as for the background. The image quality of the 13 MP camera is also excellent as compared to other mid-range smartphones.
As soon as you fire up the camera app, you see a quick response and it is very easy to switch between the cameras. The zoom option also works fine, and the wide angle helps you incorporate more into your single shot. However, if you switch to wide angle mode, you will lose some image quality.
Battery Life The phone comes up powered with a battery life of 2520mAh. This is 220mAh more as compared to the other X-Screen released with this phone. It might face some difficulties in running for an entire day on a single charge. A full HD display, a camera which entices you to take many images and punchy processors, might make it difficult to meet your whole day requirements. Hence, consider getting a power bank in case you are an avid gamer or a selfie lover.
Technical Specifications The phone comes with a 1.14GHz of octa-core processor which is backed up with 2GB of RAM. These two combinations make the smartphone work very smoothly and there are hardly any issues with regards to switching or opening applications.
The phone has an internal memory of 16 GB out of which 9GB is available for the users to use. Consequently, having a memory card might be necessary.
Phone Accessories Upon unboxing this device, you will find out a battery of capacity 2520 mAh, a warranty card and a user guide. Apart from this, you will find a charger and a USB data cable and for music lovers a 3.5mm headset.
Variants This phone is available in four different colours i.e. Silver, Gold, White and Pink Gold. None of these shades give you a premium outline if you are thinking so. Although Silver does give a metallic look and Pink Gold is something that will stand out as different among smartphone users. All the variants of the phone are expected to be priced around Rs. 18,000-19,000
My Verdict This phone has promised a premium camera feature, which has been successfully delivered and hence in case you are a photo lover then this is the phone that you can definitely go for. However, in case you are searching for something with a premium look and feel, then you definitely will be left disappointed as the plastic body is a bit creaky to use.
The battery capacity could have been improved provided that three cameras are incorporated plus a large processor is to be supported. The company has tried to incorporate features of LG G5, but the phone fails to meet that standard.
You can go for the phone in case you are looking for a mid-range smartphone with excellent camera features and image quality. However, there are other good phones in this price range available with many exciting features such as Mi4.