Samsung Galaxy Note 5 Review
Samsung has had made some exceptional phones in the recent times out of which the Note series stands out outstandingly. Now with the launch of Samsung Galaxy Note 5, some bold changes have been seen in Samsung. It has been completely redesigned. In our review for Samsung Galaxy Note 5, we will be analysing the new direction and will find out whether it should be bought or not.
The Galaxy Note 5 was launched on August 21, 2015, in the US on AT&T, Verizon, Sprint, T-Mobile and US Cellular. Samsung's new Galaxy Note 5 breaks away from how Samsung typically designs its Note device series and so follow the company's newly launched smart phone, Galaxy S6. This phone comes with an improved stylus known as the S-Pen which enables better multi-tasking, enhanced video quality and new productivity features. The new model will be available in three different colors in India: Black Sapphire, Sliver Titanium and gold Platinum.
Samsung Galaxy Note 5 – The Big Baby Review!
Samsung Galaxy Note 5 Design:
Samsung Galaxy Note 5 is very comfortable to hold but it is difficult to be used by one hand due to its 5.7-inch screen. Since the introduction of Galaxy Alpha series, Samsung has been using metal frames in most of its premium handsets. The metallic rim on the phone curves smoothly so that it is wider at the top and the bottom and slightly narrower on the sides. As compared to the predecessors of Galaxy Note 5, it seems to be stronger and sturdier. The combination of extra tough 7000 series aluminium and Gorilla glass 4 give it an ultra-refined look and a stronger build. The usual rear panels have been replaced by the new all-glass look and the body colour of Note 5 is clearly visible through the back panel. The back of the Phone is very shiny, thanks to the metallic finish. Samsung has taken a very big leap forward with Note 5 here in terms of design quality.
Galaxy Note 5 is certainly very beautiful. The materials used for the design makes it feel a more advanced and higher in a class device than its predecessors in the series, but it has also lost some of its typical Note qualities or features. There is no slot for a memory card which might disappoint many users. The battery on the device is not replaceable which also means that the back of the phone is not removable.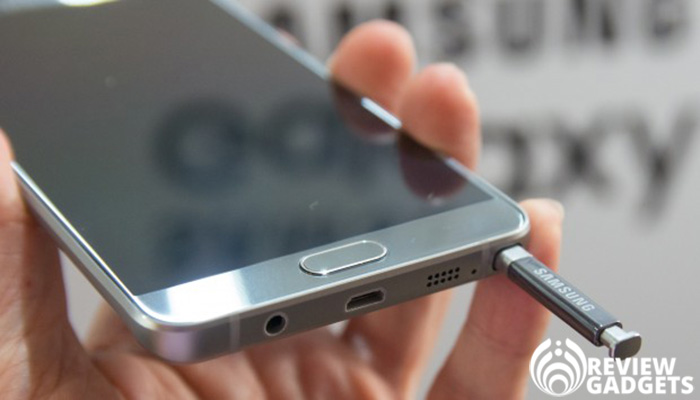 Display and Audio:
Galaxy Note 5 display, as mentioned earlier is a 5.7 inch Super AMOLED unit with QHD resolution. This means that there is no display quite like it, not even the dual edge display of Galaxy S6 Edge looks quite as good as one with Note 5. The colour brilliance and the brightness of Note 5 are the best. Galaxy Note 5 is more comparable with Galaxy S6 as both have the same resolution of 2,560 x 1,440 pixels but as the screen size of Note 5 is bigger, the pixel density is lower. The pixel density still amounts to 518 ppi which are very good and would not be a cause of complaint about the users. As compared to Note 4, the display of Note 5 is much brighter even in the brightest of lights. One more plus on the brightness is that it is more power- efficient. According to one of the websites, it provides the best colour reproduction of all the mobile displays. Samsung Galaxy Note 5 has also set a new record on display brightness.
Now the sound on Note 5 is a thing everyone would appreciate. It features UHQA (Ultra High-Quality Audio), which upgrades the audio files and streaming music with a better and higher quality sound. The built in UHQA feature adjusts the equalizer in real-time. It works great for both wireless and wired headphones. The UHQA abilities will work perfectly well with the third-party music apps as long as they support the codec. The phone also has a mono speaker at the bottom right but one would need to play with the equalizer settings to get a decent sound.
Samsung Galaxy Note 5 Camera
Samsung has opted to use the 16MP Sony IMX240 Sensor with Galaxy Note 5 which comes along with the f/1.9 lens. The camera is pretty simple to use and most of the settings are available in the viewfinder. It offers different shooting modes. The colour adjustments are also very advanced. Live Broadcast is also a hot new feature that comes with Note 5. It allows one to share the live feed with the world via YouTube.
Overall, Note 5 Camera is fast and responsive at all times. The shooting experience it gives is one of the best any phone would offer. We can say the same about the image quality as well. The images consist of plenty of details, a dynamic range of sharpness and great colours.
It is equipped with a 5MP front camera which has the same aperture and offers Live HDR and colour filters as well. It allows a very wide selfie mode so it can easily capture very good group selfies. One can also click selfies with a tap on the heart-rate sensor on the back of the phone. For those looking for a good camera on a smart phone, one should definitely shortlist Note 5.
Samsung Galaxy Note 5 Performance:
Note 5 comes with a very powerful Exynos 7420 processor with eight core and a speed of more than 2.1 GHz. It comes with 4GB RAM and as with Galaxy S6 Edge+ there is only a choice between 32GB and 64GB versions. 4GB RAM allows great multi-tasking performance. The re-launching of the applications is often very slow for a device with a 4GB RAM. It seems that Samsung went with a 4GB RAM for marketing purpose rather than better performance. It also deals with very aggressive power saving but this, in turn, makes the performance with multi-tasking very low. The phone is very speedy and responsive.
Samsung Galaxy Note 5 Graphics and Gaming
Galaxy Note 5 is available with great graphics which makes it very good for games as well. The phone offers a great display with games and also with the help of 4GB RAM, the gaming experience for the gamers would be extremely good. There would be no lagging. Also, with the help of the octa-core processor, the gaming would be even more wonderful.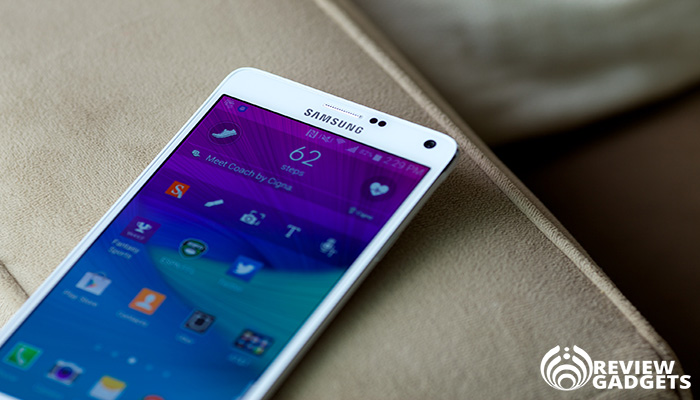 Note 5 Heat and Noise
Heating is a common issue among Note 5 users. This is one thing the users should always check. When your battery is hot or even when you think the phone is getting heated, then the reason can be that a number of applications are running in the background. So if you come up with this issue, try to use fewer applications at a time. This is a way to curb the heating issue with Note 5. Noise is not much of an issue with the phone so the users can be rest assured that their phone is not going to make any weird noise other than the phone ringtones.
Note 5 Software
Note 5 has a number of software updates. It is based on Android 5.1.1 Lollipop and is fast making way for an update to Android Marshmallow. It also runs on TouchWiz UI. Its software is similar to that of Galaxy S6. Other than small changes to the launcher, the only notable change is the new iconography, where all the icons are rounded-off squares with more colourful and flat looks. It is also same with the app folders which are of the same size as the new application icons.
It has a sealed battery and also has cut down 2200mAh to 3000 mAh from Note 4. The battery has roughly 17% greater capacity than Galaxy S6 which is, of course, a very big difference. Note 5 has also got some improved battery optimization which means the battery is pretty good and is not an issue to worry about in any way.
Samsung Galaxy Note 5 is priced at around INR 48,000 and it normally comes for a warranty period of one year. Now with the help of these reviews one may actually have an idea of how good Galaxy Note 5 is and how right it is to buy it.