Xiaomi, like Reliance Jio (telecom operators in India), is providing the tough battle for smartphone makers. It is one of the key players in troubling the Indian smartphone market with affordable devices featuring premium specs Over the last few years, Xiaomi has got a lot of acknowledgment, but the rivalry seems to raise each time.
The India based smartphone manufacturer Micromax has made a safe bet with the launch of the budget smartphone YU Yunique 2. The smartphone comes from a revived brand, Until YU Yureka Black was launched recently, was latent for several months. It is a cue for Xiaomi to stay alerted by the steady launches from YU.
YU Yunique 2 is a direct threat for the Xiaomi Redmi 4A. At Rs. 5,999 both phones are equally priced. Starting from July 27 YU Yunique 2 will be available exclusively on Flipkart, while on the other hand, the Redmi 4A continues to be in high demand as it is available on each Wednesday 12PM sales on Amazon India and Mi.com.
Xiaomi Redmi 4A vs YU Yunique 2- review, price, specifications, launch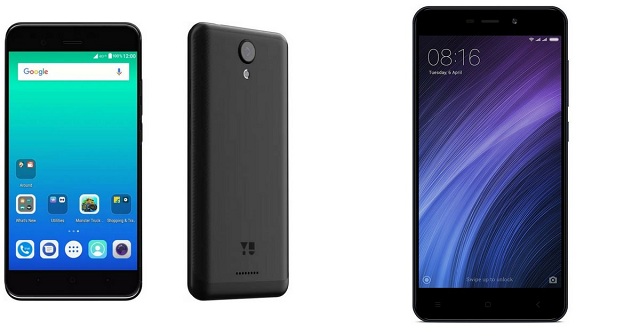 The difference in specifications will help consumers narrow down to the final choice while both phones might be the same price. Following is the comparison of both the smartphones which might help the customers to choose best according to the requirement.
Display
YU Yunique 2 comes with 5-inch HD IPS display with pixel density of 294 ppi. On the other hand, Xiaomi Redmi 4A also has a 5-inch HD display pixel density of 294ppi, which determines both phones are standing equally on this display sizes.
Camera
Xiaomi Redmi 4A comes with a 13MP rear camera including a single LED flash and a 5MP front shooter, which is same as the Yunique 2 setup. YU's smartphone, too, has a same front camera of 13MP with LED flash and a 5MP front camera with an extra front LED flash to gain an edge over the Redmi 4A.
Battery
The battery in Xiaomi Redmi 4A is bigger which is 3,120 mAh, as compared to the 2,500 mAh battery found in the YU Yunique 2. We are yet to verify how long the Yunique 2 can survive on a single charge while we revised the Redmi 4A and found it to last a day and a half with conservative use.
Performance
Xiaomi Redmi 4A is powered by a Qualcomm MSM8953 Snapdragon 625 chipset, Octa-core 2.0 GHz Cortex-A53 CPU and Adreno 506 GPU 2GB RAM, which delivers a decent performance for a smartphone its price. YU Yunique 2 has a Qualcomm MSM8937 Snapdragon 430 chipset, Octa-core 1.4 GHz Cortex-A53 CPU and Adreno 505 GPU, which is paired with 2 GB RAM, to deliver a similar, if not a better performance.
Both phones have 16GB in-built storage, but only the Redmi 4A has expandable microSD card slot to support additional storage up to 128GB. This is a key differentiator and an advantage for Xiaomi.
Both devices are 4G voLTE supportive and dual SIM and support among other standard connectivity options. While Redmi 4A has Android Marshmallow-based MIUI 7 as UI, on the other hand, Micromax's smartphone runs on latest Android 7.1 Nougat.